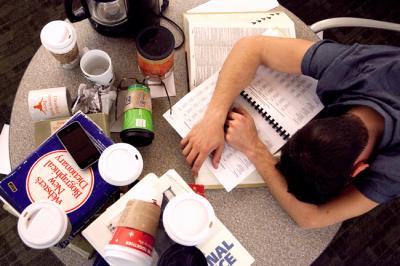 Some students go to great – and often curious – lengths to maximize their studying time before finals.
After countless semesters and multiple rounds of rounds of finals, I'm confident I've seen it all when it comes to crazy, odd or just plain absurd study methods.
Well, almost all.
I'm sure some of you fellow Biology Forums members out there have some interesting stories.
There was the kid across the hall freshman year who Aderol'ed himself into a 36-hour sleepless stupor. Don't take Aderol… just don't.
Then there's the classic (and much more popular) I'm-going-to-go-to-sleep-at-4-and-wake-up-at-5 method that is meant to secure some semblance of sanity.
There are the library residents, the library frequenters, the casual library users and the kid
[ ... ]